Services
The Portmarnock Lions club provides many services to support people less fortunate than ourselves including:
Distributing bottles through local pharmacies for our Message in a Bottle campaign.
Holding Diabetes Screening days in local pharmacies in order to help identify people at risk of diabetes.
Holding CPR Training days in conjunction with the Irish Heart Foundation.
Running Alcohol and Suicide Awareness programs.
Showcasing local clubs and charities, last held prior to Covid19 on 1st March 2020, in the Naomh Mearnog GAA club.
Supporting Lions Clubs International (LCI) "Sight First" programme's for the eradication of "River Blindness" in Africa.
Making contributions to Lions Clubs International's appeals to respond to natural disasters around the world such as tsunamis, earthquakes, and hurricanes in places such as Haiti, Thailand, New Orleans, Japan, and Laos.
Funds are channeled directly through LCI to local lions clubs in the locally affected areas.
Fundraising Events
We also engage in fundraising events as follows:
Annual Golf Classic at the Portmarnock Hotel & Golf Links.
Annual Christmas Appeal in Dunnes Stores Portmarnock.
Annual Church Gate collection.
Coffee Mornings.
Poker classics.
Table quizzes.
Upcoming Events
Our next annual golf outing is scheduled for 19th August 2022 at the Malahide Golf Club. We are filling up slots nicely.
Give us a shout if you're interested in participating using any of the contact details provided below.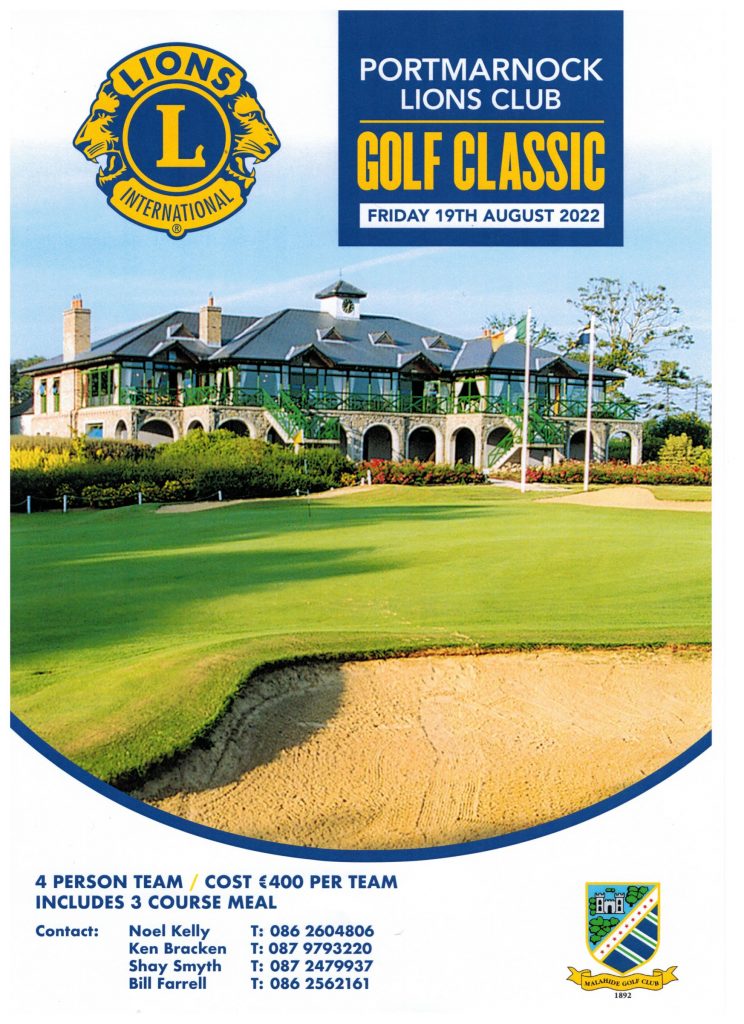 Many thanks to our sponsors for their support.
C & N Properties
O'Farrell Schoolwear
Portmarnock Service Station 
Darragh O'Brien T.D
Jimmy Lonergan Motors
Donegal Shop
Hi Spec Construction Ltd.
DIY Dave
Stephen's Barber
We'd also like to thank the Malahide Golf Club for hosting our event.